02.08.23
Seven promoted for commitment to each other, practice
Our 2023 promotions are a group of extraordinary professionals who have shown consistent growth in their career at OPN. All OPN employees embrace our responsibility to care for each other and our planet through extraordinary design and a boundary-free practice. We see a commitment to each other, our practice, and our clients reflected in these seven team members whose promotions represent passion & purpose.
Kim Knoop |  Senior Interior Designer 
Kim has been with OPN since 2018 when she joined the Madison studio. Throughout her career, Kim has worked on award-winning interior design projects, most recently being Springs Window Fashions in Middleton, Wisconsin, as well as Thysse in Oregon, Wisconsin. Her portfolio of work includes an extensive list of Sub-Zero projects spanning throughout the US and Canada.
Q: What inspires your work?
A: Architectural shapes that can be translated into Interior spaces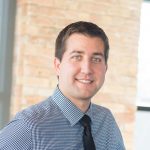 Nicholas DeCarlo | Architect
Nick has experience on a variety of project types including K-12, university, civic, and commercial. Nick has been an integral member of the design teams for both of the newest elementary schools in the Cedar Rapids Community School District – West Willow and Maple Grove. He grew up in Harlan, Iowa, and has a Bachelor of Architecture from Iowa State University.
Q: When did you know you wanted to be an architect or designer?
A: When I was young, I used to draw the New York and Chicago skylines by studying pictures of them and then replicating them on a piece of paper. Eventually I started creating my own cities and designs for buildings. One day when I was about 7 years old I was sketching I asked my mom "what do you call someone who draws buildings for a living?" She responded with architect, and from that point I knew which career path I wanted to pursue.
Brady Dorman, AIA | Architect
Brady has been with OPN Architects since 2011 and holds a Bachelor of Architecture degree from Iowa State University. Since joining the firm, he has worked on several educational facilities for such clients as the University of Iowa and the Iowa City Community School District. He enjoys working on community and civic projects that serve the greater public.
Q: Which phase of a project is your favorite?
A: Construction documents and construction – when our initial design concepts are transformed into real buildings.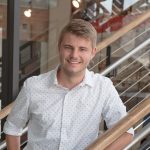 Grant Bauermeister
Grant joined OPN in 2019. He is a 2019 graduate from Iowa State University with a Bachelor of Architecture. He is particularly interested in the stories a project's context tells and how design can interact with a location's history, culture, and people.
Q: What inspires your work?
A: I'm particularly interested in the stories a project's context tells and how my design can interact with a location's history, culture, and people
Paige Lorenzo
Paige graduated from Iowa State University in 2019 with a bachelor of architecture degree; she is a an Associate member of the American Institute of Architects, Iowa Chapter. Since joining OPN, Paige has worked on the renovation of the Polk County Historic Courthouse and the Iowa State Capitol Dome restoration.
Q: What makes OPN unique?
A: OPN isn't just a company but is a family that gets together beyond the work hours. You can really count on a coworker to be there for you, not to mention all the fun activities that are planned to get you together – baseball games, picnics, open houses, dinners, games, etc. It's really inviting studios that not only produces unique designs but welcomes everyone in with open arms.
Alec Burk, Assoc. AIA
Alec holds a Master of Architecture from the University of Nebraska-Lincoln (2020). He enjoys the freedom and experimentation of the design industry; which offers an opportunity to both improve the built environment and impact people in a positive way. 
Q: What inspires your work? 
A:  Having the ability to change people's lives through design and the satisfaction of seeing a design come to a constructed reality.
Pylar Eaton | Senior Construction Administrator
Pylar started with OPN in 2014 as a construction administrator and has spent the better part of the last 20 years in the Des Moines area working in the design and construction industry. She's designed and built a wide variety of projects on during all phases of the design and construction process. Pylar has a Bachelor Degree in Interior Architecture from the Chicago Art Institute.
Q: What inspires your work?
A: Problem solving and task completions.