08.14.23
Johnston City Hall featured during Biennale de Architettura in Venice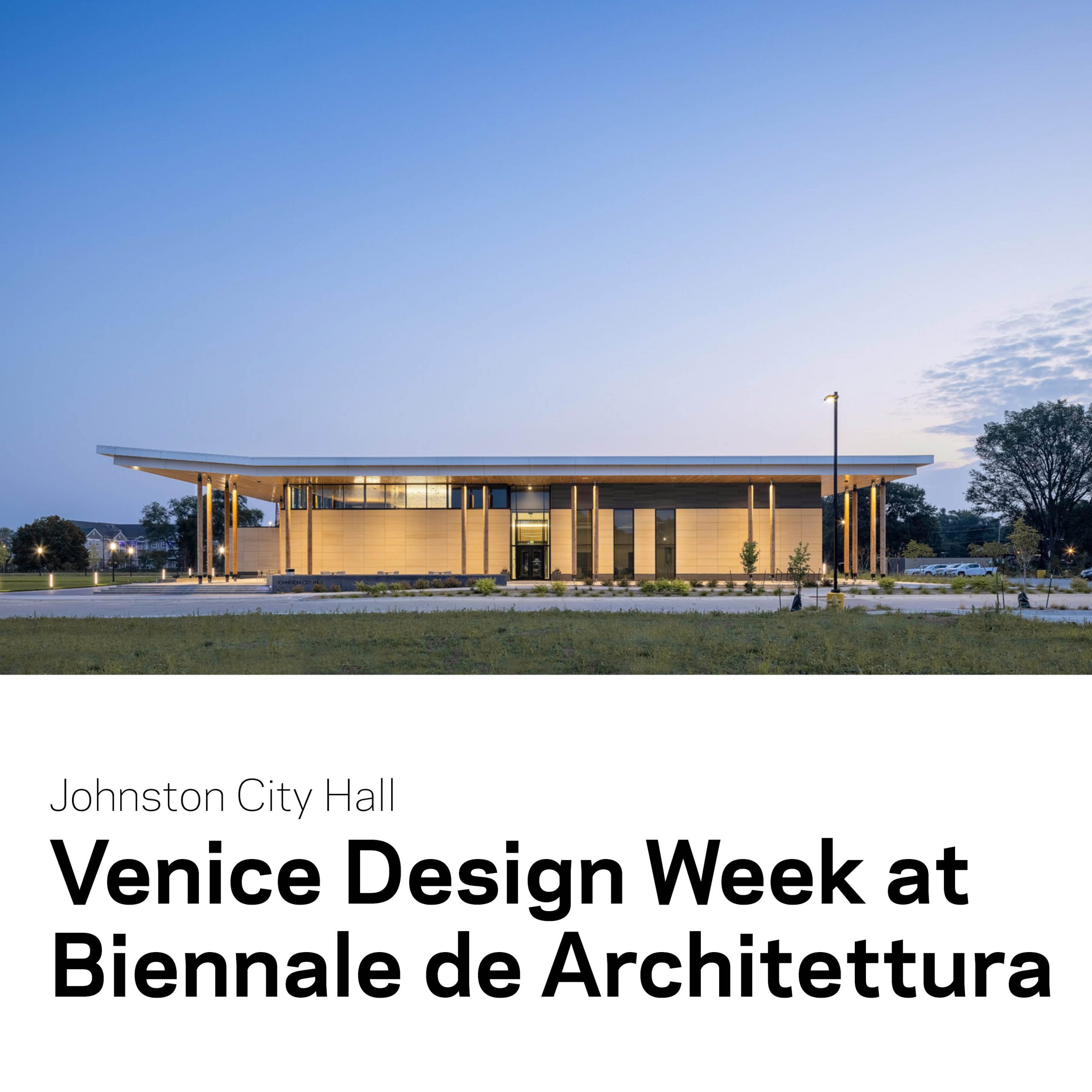 Every other year the Biennale de Architettura assembles an international exhibition showcasing  architecture as a solution to contemporary societal, humanistic, and technological issues. Universally accepted as the world's leading architecture event, this year's exhibition "The Laboratory of the Future," curated by Ghanaian-Scottish architect Lesley Lokko also features art, cinema, dance, music, and theatre from May through November throughout Venice as well as other cities in Europe and across the globe.
This year, in conjunction with the Bienale, Arte Design Venezia and Venice Design Week curated an exhibition "100 Projects x 100 Identities" exploring four themes – community, business, hospitality and interior design details. Curated by architect Lisa Balasso and the Venice Design Week committee, each theme is represented  25 projects displayed in the Magazzino Gallery at Palazzo Contarini Polignac in Venice.
OPN is honored that the committee selected Johnston City Hall as one of the 25 projects used to explore the theme of architecture + community as part of the Venice Design Week exhibition.
We are also extremely thankful that an OPN alumni currently practicing architecture in Germany was visiting the Biennale in the opening days of the exhibit and was able to snap this picture for us. Johnston was part of the display from May 20 to June 26.
The series of exhibitions are linked by the common thread of identity. The selected projects aim to enhance creativity and awareness of the change needed to pursue sustainable and socially inclusive choices.
The new city hall in Johnston, Iowa, creates a civic core and community destination in the tradition of the town square. The building and site were developed to realize the city's goal to provide free amenities that enhance quality of life for residents and neighbors while also modeling how a city hall can serve both civic and community functions.
Read more about the exhibit, Johnston City Hall, and the other projects selected for the architecture for community installation in the portfolio below.