10.06.22
Retreat 2022: #OPNMPLS
Over OPN's 40+ year history, as our firm has grown from 10 to 50 to more than 100, we have treasured our annual tradition of bringing staff from throughout the Midwest to a central location to connect, celebrate, and collectively learn about our practice.
This year particularly after two virtual retreats, we looked forward to finally getting back together in our newest hometown of Minneapolis, Minnesota, where we opened our fifth studio in early 2022.
---
Day 1
Day one started on the 50th floor of the Marquette Hotel with lunch and time to explore OPN's Innovation Lab, an interactive showcase of OPN's digital practice. Throughout the afternoon staff were encouraged to engage in mixed and virtual reality, digital fabrication, and reality capture to experience how we can use these tools to enhance design and deliver extraordinary projects.
The highlight of the afternoon were keynotes by Dr. Lawrence Chatters and Carol Ross Barney. Both have spent their careers challenging the status quo with approaches that engage their respective communities through empathy and inclusivity to create outcomes that inspire and allow others to thrive.
As an architect, urbanist, mentor, and educator, Carol Ross Barney, FAIA, HASLA, has relentlessly advocated that excellent design is a right, not a privilege. Since founding Ross Barney Architects in 1981, Carol has made significant contributions to the built environment, the profession, and architectural education. Her body of work occupies a unique place within the panorama of contemporary architecture, being composed of work primarily in the public realm.
Dr. Lawrence Chatters currently serves as the Executive Associate Athletic Director for Strategic Initiatives at the University of Nebraska Lincoln in addition to leading the department's diversity, equity and inclusion efforts. With a Ph.D (2018) and a masters' degree (2014) in counseling psychology from UNL, Dr. Chatters frequently speaks to national audiences, with a focus on the importance of taking time to focus inward to improve mental health.
The day ended with dinner at Giulia's and dancing in downtown Minneapolis.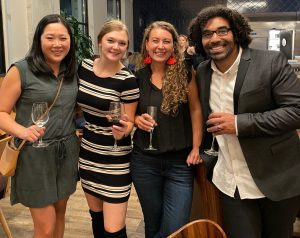 ---
Day 2
The second day of our retreats always feature tours of our host city's architecture. This year, we visited US Bank Stadium and Lakewood Cemetery Mausoleum. We also explored Minneapolis' riverfront revitalization on a walking tour of the Mill City Museum, Water Works at Mill Ruins Park, and The Guthrie Theater.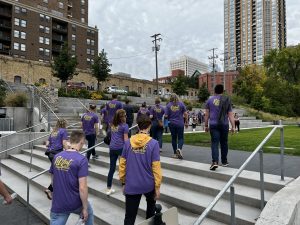 The day ended at the current home of our OPN Minneapolis studio, the T3 Building, for lunch and a group photo.
Two days of inspiration, friendship, and fun. OPN is truly Better Together.