04.08.22
OPN Architects expands to Minneapolis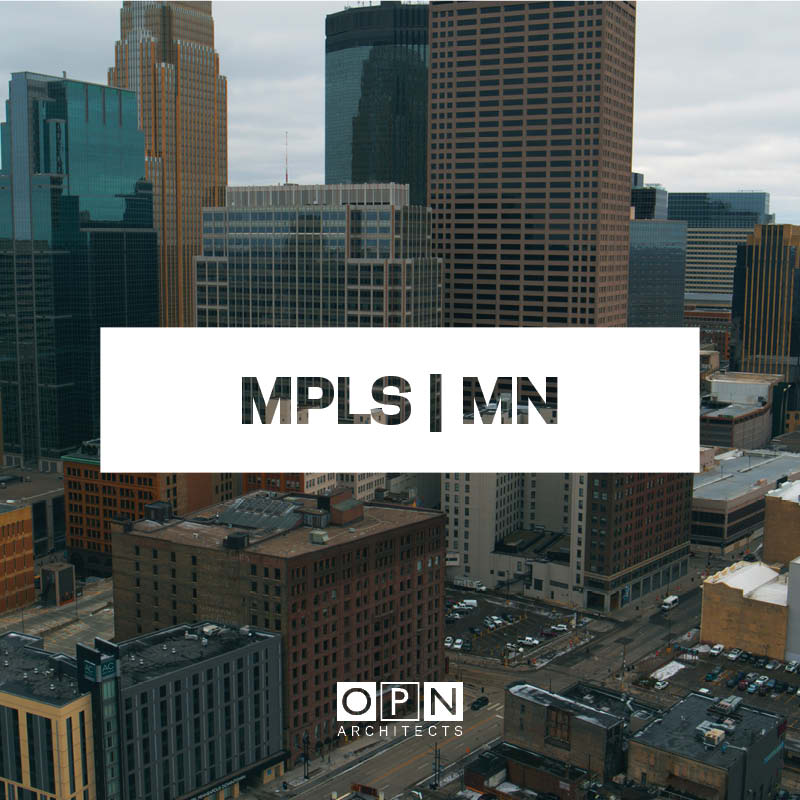 Throughout our 40 year history, OPN Architects has fostered an entrepreneurial spirit by consistently nurturing talent and embracing opportunity.
OPN's latest expansion exemplifies this legacy.
We are thrilled to announce the opening our Minneapolis studio.
Led by Associate Principal Tate Walker, AIA, LEED Fellow, WELL AP, the Minneapolis studio is OPN's fifth location. A regional design firm with more than 100 designers working on projects across the Midwest. OPN also has studios in Cedar Rapids, Des Moines, and Iowa City, Iowa; and Madison, Wisconsin.
To be able to reinvest in a city you love and build it up is really exciting. I couldn't think of any better place to start an office.

-Tate Walker, Associate Principal, AIA Minneapolis
We also can't imagine a better ambassador for OPN in the Twin Cities than Tate, who has been with OPN since 2014 and living in St. Paul since 2017. An architect with more than two decades of experience, Tate is an exemplary leader in our firm and industry who has dedicated his career to paving the way to a better earth through architecture.
As OPN's Sustainability Director for the last eight years, Tate has established himself as a nationally recognized leader on energy and sustainability in the built environment. He regularly writes and presents on issues relating to energy, technology, building science, and promoting environmental awareness through design. Tate has the distinctions of being named to the 2015 class of LEED Fellows and sitting on the AIA's Committee on the Environment. Tate was a lead author of the COTE Toolkit, which assembles best practices, exemplary projects, metrics, and research to support the design of beautiful, high performing buildings. In 2019, the American Institute of Architects adopted the toolkit as the Framework for Design Excellence to support a healthy, zero carbon, equitable, resilient future through the built environment.
Tate's commitment to pushing our practice to the forefront of sustainable design, delivering cost- and energy-efficient, health-conscious, and resourceful solutions to meet the varied needs of his clients will differentiate our practice in Minneapolis while also realizing our vision to be a design firm that embraces our responsibility to care for each other and our planet through extraordinary design and a boundary-free practice.
As a multi-disciplinary firm, with award-winning work spanning a broad portfolio including corporate, civic, higher education, health care, and libraries, we are excited by the potential and energy in Minneapolis.
While we explore opportunities for a more permanent location in Minneapolis' Warehouse District, Tate and his growing staff are working out of the T3 building in the city's north loop.
"To walk down the streets every day and be inspired and informed by all the great designers around you, to have peers in the industry that push you to do your best work, to be able to contribute something different and unique of your own. That's what makes good practice. We are excited to be a part of that legacy."