08.15.23
Linn County's Dr. Percy & Lileah Harris Public Health Building earns LEED Silver
In 2020, the Linn County Board of Supervisors created a Sustainability Department to equitably address issues of climate adaptation and engage the public in climate action.
LEED (Leadership in Energy and Environmental Design), developed by the U.S. Green Building Council (USGBC), is the most widely used green building rating system in the world and an international symbol of excellence.
The construction and operation of buildings represents 40% of the total global carbon emissions. Certification is proof that buildings are going above and beyond to ensure the space is constructed and operated to the highest level of sustainability, which directly reduces each building's carbon footprint in addition to other positive impacts.
LEED projects earn points by adhering to prerequisites and credits across nine categories. The public health building earned LEED Silver certification under the LEED Building Design + Construction (BD+C): New Construction (NC) v2009.
The majority of the points were earned in the Sustainable Sites category.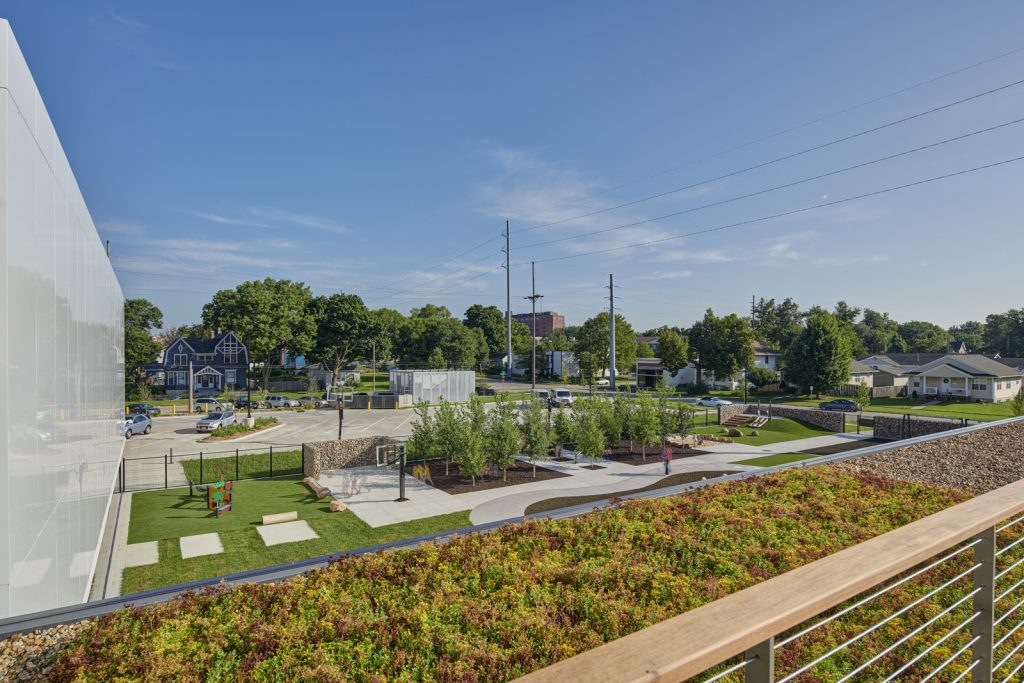 The 63,000-square-foot public health and childcare center was the county's final flood-related project to be completed. Named after the late Dr. Percy and Lileah Harris, the building was designed with their civil rights and social equity efforts in mind. While the prior public health building was not flooded, the site of the new building was. After being cleared following the flood, the site sat empty for years. By redeveloping the site, the county utilized an previously developed site in the city's urban core.
The building is geared towards aiding children from low-income families. Many aspects of the facility were designed with the intent of supporting the community and providing a safe, supportive space for children of all backgrounds to receive care. The building's childhood development wing was designed integrate into surrounding residential neighborhood while the larger public health wing creates a civic presence. South facing, floor to ceiling windows provide views to the surrounding city. A large green space and nature-inspired playground ensures children are connecting with nature. Furthermore, the facility provides an after-school program that allows those in need to have a safe space to play and hang out with friends.