03.07.23
Trauma-informed design shapes community for human trafficking survivors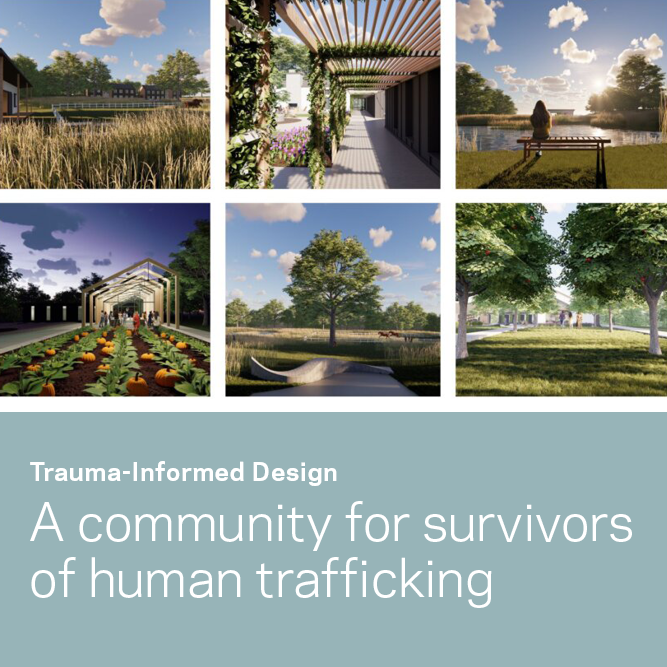 The impact of human trafficking ripples across the fabric of our communities.  Through force, fraud, and coercion, human traffickers violate a most basic right – to be free.
Understanding that access to stable housing is critical to preventing a re-occurrences, Zeteo Community, a grass-roots organization in Dane County, Wisconsin, has been working for seven years to provide women who have been sexually exploited with programming in a supportive residential community.
Our vision is to provide trauma informed programming, individualized strength-based care, along with transitional housing … within the context of a safe community and healthy people around them. (Brianna Saxer, Zeteo Community Project Coordinator)
The design, which was shaped by trauma-informed design principles, was recently unveiled at the group's inaugural fundraiser.
Trauma-informed design is at the intersection of architecture and mental health. It is rooted in the belief that an unfriendly built environment — dark stairwells, narrow spaces, clinical and sterile finishes — can be triggering for people with a history of trauma or repeated exposure to traumatic experiences and thus the design of a building can mitigating these triggers.  This approach is manifested in wide hallways and well lit stairwells and spaces, through color and natural materials, by creating space for refuge, both inside and out, and ensuring a space is easy to navigate. Incorporating these principles into the design of the Zeteo Community has the potential to alter a resident's perception of themselves, others, their past, present, and future.
Everybody's trauma is their own and their journey to get on the other side of it is a path that they have to take themselves. We wanted to create a home- like atmosphere for these women as they begin their journey. Something that is warm, inviting, something that really helps them as they begin.  (Brett Rottinghaus, OPN Architects Project Architect)
Agrarian architecture pays homage to the farmstead that once operated on the site. The colors, material and positions of the buildings a selected and placed to create a warm, inviting, and safe atmosphere. Women will begin and end each day looking out into a peaceful landscape that is both safe and protected while also open and connected.
Inspired by the biblical Oaks of Righteousness – which represent a solid foundation in Christ – the Zeteo Community site, including a communal house, two residences, a horse barn, chapel, and pond, is organized around a single oak tree. The communal house and residences are nestled into a slope on one side of the site, while the chapel and horse barn are next to the pond.  Positioned near the entrance to the site the Communal House acts is a welcome center and space for group therapy, art studio, and other programming.  It is the only publicly accessible building. The rest of the campus, separated by an orchard, is private, for residents only.
A big part of it is bringing hope. We want (the women) to feel like they have found family …  to live independently, to be empowered, to really just know that they are somebody and they can do it. (Marlene Sorenson, Zeteo Community, Co-founder)
One house is for women with children and one is for single women. The two houses frame an open courtyard – with an inside/outside fireplace for the women to gather, learn how to laugh/love again and engage in the healing act of play – that unites the two buildings. The courtyard extends between the houses and down the hill with tiered seating to read a book, gather, or enjoy views to the oak tree. Both houses have an open floor plan to encourage interaction and togetherness as well as a semi-private library.  In the bedroom wing, women will pass through a hall of hope with portraits of the women who have lived there before them.