08.04.22
Corporate transformation, public library honored by AIA Wisconsin
Springs Window Fashions and Waunakee Public Library have both been recognized with a 2022 Merit Awards from AIA Wisconsin for excellence in architectural design and construction. With welcoming and vibrant spaces that embrace openness and light, both Springs Window Fashions and Waunakee Public Library embody our firm's commitment to design that elevates.
"Demonstrating the power of design in repositioning our corporate workplace"
An extensive renovation of both the interior and exterior of the corporate office included a conversion of 8,600 square feet of shop floor into a mix of open and private offices, new welcoming focal-point lobby, and a new training facility, breakroom, and fitness center. The renovation's design is inspired by the building's mid-century aesthetic with a clean, contemporary design and composition that embraces natural light and connects employees to the outdoors and to their circadian rhythms. Exterior solid walls were replaced with full-height energy efficient windows, and interior walls were minimized to promote views to the outdoors.
The most sustainable concept informing the design is perhaps the decision to renovate and reuse their existing facility. The decision to reuse rather than build new saved this project approximately 7-times the amount of embodied carbon. A new building envelope, all new mechanical and electrical systems and LED's that operate in concert with available daylighting all work together to dramatically reduced operational carbon (energy use) by improving building performance.
A catalyst project for village economy and life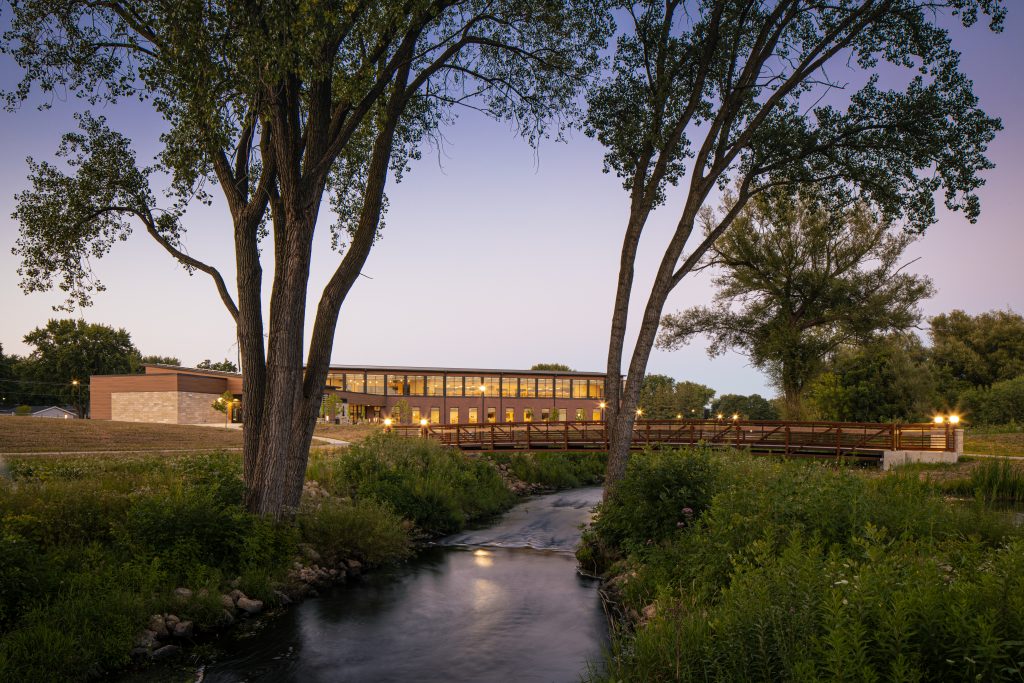 Sited on an abandoned brownfield site, paralleling a creek and near the village's downtown historic main street district, the building's form creates a large public outdoor space. The exterior responds to the materials used on nearby downtown properties and a green roof and a solar array set a standard for the village's mission as environmental stewards.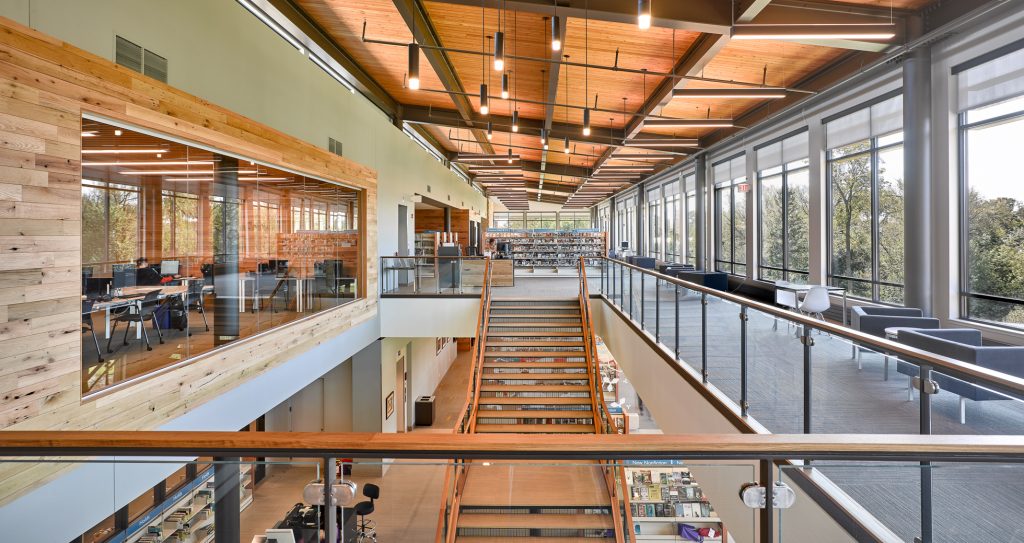 The flexible community hall accommodates 100 to 200 people and opens to an outdoor patio. A green roof and a solar array over the community hall sets a standard for village's mission as environmental stewards. A central staircase connects the two-level library spaces and defines the primary circulation order. In lieu of circulation desks, checkout kiosk are provided for either staff assistance or self-checkout.
Waunakee Public Library has also been honored with and Award of Excellence from the International Interior Design Association, Wisconsin Chapter (2020) and was the Project of the Year and Best Development-Education in InBusiness Magazine's 2020 Commercial Design Awards.