01.16.22
2022 promotions recognize passion & purpose
We would like to congratulate the staff members who have received promotions in 2022.  Exemplifying persistent growth and passion, these individuals have driven many projects to success in their time at OPN. Their experience shows the sharpened efficiency and effectiveness of their skillset, and we are happy to see them filling a new role this year. Each makes OPN better with their dedication to design excellence and elevating the human experience.
Robert Wheat |  Senior Project Architect
Rob has been with OPN since 2014 when he joined the Madison studio. Throughout his career, Robert has worked on award-winning public projects such as Brodhead City Hall in Brodhead, Wisconsin, as well as acclaimed residential designs. His own house was included in a book featuring non-traditional residential design in 2005.  Robert is involved in the state and local levels of American Institute of Architects chapter, including stints as local officer, state board member, and chairing the state convention.
Q: What inspires your work?
A: Build upon the last success and do it better.
Joseph Tursi |  Senior Project Architect
In his 17 years at OPN, Joseph has focused on the firm's education projects, for both our K-12 and Higher Education clients. His practice focuses on creating excellent design solutions for his clients through innovative knowledge-based strategies, collaborative communication, and sustainable design tempered by practical application.
Q: What inspires your work?
A: The awesome opportunities that we are given by our clients. This requires commitment that we give our maximum effort to find the essence of the project and tailor our solutions to not only fulfill the clients needs and desires but also reflects their history, their story.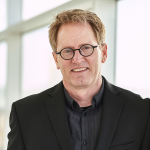 Mark Kruser |  Senior Project Architect
Mark has been an architect and project manager for several firms in Iowa and Wisconsin over his varied career. He is an active member in the Wisconsin Chapter of the American Institute of Architects, serving as the Southwest Section President (2018) and as the Chair of the AIA Wisconsin Design Awards Committee. As an adjunct instructor at Madison Area Technical College in 2010-2012, Mark developed the school's first course on LEED and sustainable design.
Q: What inspires your work?
A: Going beyond the ordinary.
Landon Burg |  Senior Project Architect
Landon has been in the Cedar Rapids office for almost ten years. He takes a research-driven approach to projects, seeking out industry best practices to inform the project design. Landon believes architecture is a thoughtful blend of science and art that requires rigorous attention to details and ideas.
Q: What inspires your work?
A: I am inspired by the work of my peers.
Jimi Peters |  Project Architect
Jimi has experience with large campus projects for corporate and collegiate clients. These large projects involved many team members and consultants that fostered efficient communication and collaboration. In addition to these large projects, he has managed a few small tenant improvements, for which he was the client contact point from start to finish. Jimi has been with OPN for over ten years.
Q: What inspires your work?
A: Learning something new, Having a vision for what an existing space can become, Being on a team with other people.
Elisha Horsfall |  Project Architect
Originally from Iowa, Elisha has a Bachelor of Architecture degree from the University of Arizona. She has worked for OPN architects since 2012. She is intentional about uniquely using texture, color, and forms in her design process.
Q: Which phase of a project is your favorite?
A: Construction, I love seeing ideas materialize.
Brett Rottinghaus |  Project Architect
Brett has been a member of the OPN team since 2010 and brings experience in a broad array of project types. Though every community is unique and comes with its own set of needs, goals, and hurdles, Brett's experience has given him the tools necessary to navigate and help guide a community to a design that works for them.
Q: Which phase of a project is your favorite?
A: CA. I love all the design and effort that goes into figuring things out, but seeing it come to life is special.
Malorie Hepner |  Project Architect
Malorie has managed projects of all sizes and types in Iowa and Wisconsin. She excels in combining creative spaces with realistic details, while maintaining close contact and communication with clients. Malorie holds a Master of Architecture degree from the Savannah College of Art and Design in Savannah, Georgia, where she received her Bachelor of Fine Arts and a minor in Urban Design also. Malorie has been with OPN since 2014.
Q: What inspires your work?
A: Always striving to be better and to build a better future built environment
Ryan Frank |  Project Architect
Ryan holds a Bachelor's of Architecture degree with a minor in advertising from Iowa State University. He enjoys all aspects of a project and especially working with a client to realize their vision in an unexpected way. He strongly believes a great diagram leads to clear and concise planning and an opportunity for a high level of design and functionality. Ryan has been with OPN in the Madison studio for five years.
Q: Which phase of a project is your favorite?
A: Construction documents. This is where are skills shine. We take a design and figure out how to construct it.
Tyler Slaymaker |  BIM Specialist
Tyler has been with OPN for over 5 years and assists design teams with project documentation, construction administration, and software management, engaging in all phases of building design development.  He currently focuses on software development, creating tools to help project workflow become more efficient inside of Revit and Bluebeam and creating parametric families for Revit.
Q: What inspires your work?
A: People who put all of themselves into their work and personal lives always trying to better themselves.
Jamie Craine |  Emerging Professional 2
Jamie holds a master of architecture with a certificate in digital fabrication (2018). She has lived in seven states, most recently in Indiana where she attended Ball State. She flexes her artistic muscles outside the studio as a musician, playing both the saxophone and piano.  She is inspired by technology and how it influences us as designers: the way we think, create, and build.
Q: What inspires your work?
A: I am inspired by technology and how it influences us as designers- the way we think, create, and build. Our work is influential and can make a lasting impact. Innovation and the exploration of new possibilities can help us in our pivotal role in finding better design solutions and shaping the future.