12.02.20
Justice projects honored with AIA Justice Facilities Review Award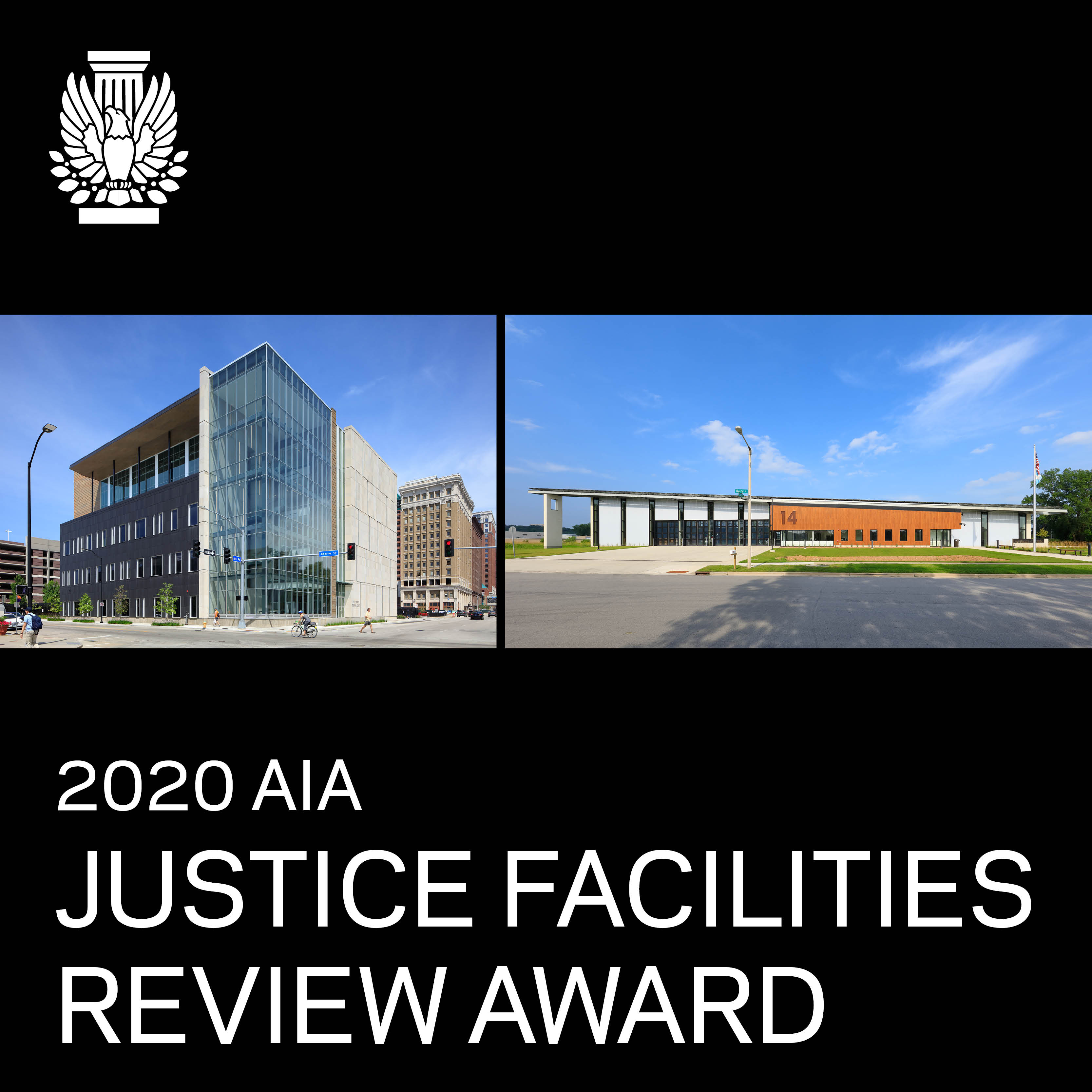 Polk County Criminal Courts and Madison Fire Station No. 14 have been honored by the American Institute of Architects Academy of Architecture for Justice with a Justice Facilities Review Award.
These projects demonstrate quality of form, functionality, and current architectural responses to complex justice design issues.
Justice Facilities Review Award | Citation
Criminal Courts is one of three projects that addressed Polk County, Iowa's overcrowded court system, improved safety, and reduced the county's reliance on leased property. To transform a former 8-story county jail into a criminal courts facility, the top six floors were removed while the remaining two were taken down to structure. Three new floors were then added to create a five-level, 110,500 square-foot building.
"From a carbon point of view, they really did some exciting and important things that take a jail and turns it into a modern courthouse. To make an inviting and open transparent courthouse in the heart of the city is an extraordinary set of moves. To relate also the interior space, the stair case that becomes a primary feature. All of these are really elegant moves and they also relate to the historic courthouse. So now there's this relationship of beautifully modern, but contextual building that relates to the historic building and does important things."
Polk County Justice Center was also honored with a Justice Facilities Review Citation Award in 2019.
Justice Facilities Review Award | Publication
A public building in a transitional urban neighborhood, the goal for the new fire station was to create a highly functional, sustainable, and pragmatic building that is also a space where employees in high-stress jobs can relax, socialize, and connect with nature.
Ultimately, it was the way the design team considered the fire fighters needs that drew the jury's attention and appreciation.
"What made this special was not simply that it was a handsome fire station but really they focused on heading off or addressing PTSD. This project shows the owner and end users had a lot of input and the design team definitely listened to them.  I thought this was really very well done."
Traditionally the Justice Review Award has recognized police stations and other buildings related to the justice system. Awarding Madison Fire Station challenged the jury to embrace the award's focus on the full continuum of public safety and justice.
The LEED Platinum certified Madison Fire Station 14 also earned a  Award of Excellence in Innovative Design, New Construction by the USGBC West North Central Region's 2020 Community Leadership Award program and a Merit Award from AIA Wisconsin in 2020.