12.02.20
Jamie Hurd Amphitheater honored with Excellence in Concrete Award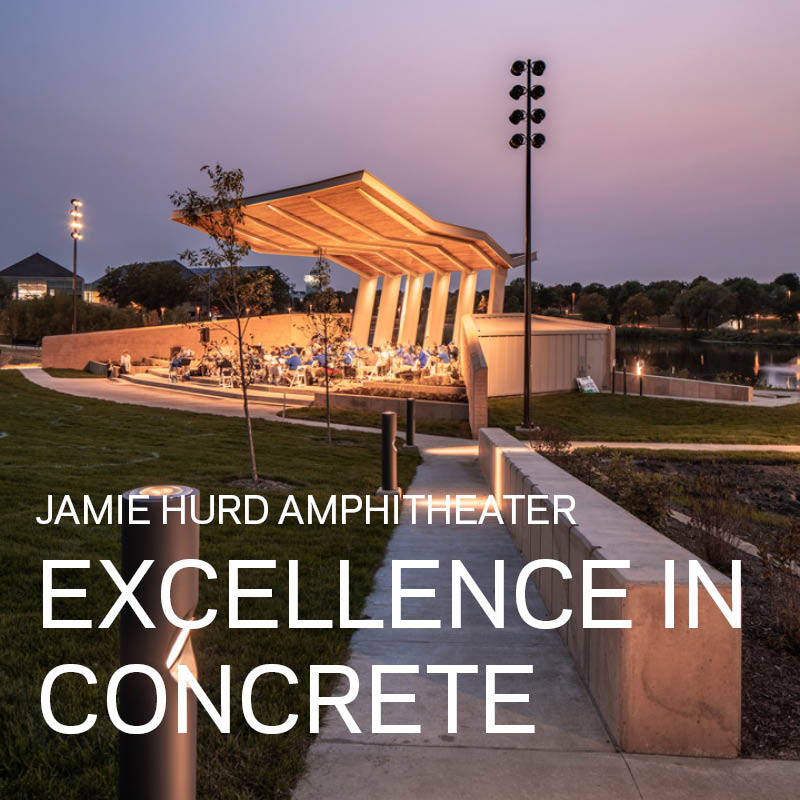 Jamie Hurd Amphitheater in West Des Moines, was honored with an Excellence in Concrete Award in the Commercial/Industrial Decorative category on Dec. 2, 2020 at the virtual Iowa Better Concrete Conference.
The Excellence in Concrete Awards recognize outstanding projects from throughout the state. Entries were judged on the following criteria: architectural design, engineering and construction challenges,  complexity of project, uniqueness of project, workmanship, finished impression, and diverse application of ready mixed concrete.
The Amphitheater offers a community-based cultural space, bringing people together to share musical performances and creative showcases including concerts, movies, and festivals. The stage accommodates up to 55 musicians with lawn seating for up to 2,000 spectators.
The design incorporates materials and forms from the adjacent building on the City Campus to create an performance space that is both airy and grounded. The cantilevered steel truss, resembling a folded piece of paper, is designed to direct acoustics, protect performers, and elegantly blend with the campus. Cast-in-place concrete walls, treated with color and form liner, hide the stage support and AV spaces from spectators.