08.21.20
COVID-19 is changing workplaces. Will the shift be permanent?
In March 2020, in what felt like an instant, many of us experienced a dramatic shift in how and where we work. With little time to plan, companies suddenly had their entire work force working remotely – many of which had never done so before and did not have formal work-from-home policies in place.
We all had to adapt, quickly. And, we did. We made work, work, at home.
Initially, employees reported increased levels of focus, flexibility, and freedom working from home. As the pandemic has stretched on, though, emotions and experiences have shifted to feelings of isolation, lack of motivation, being overwhelmed and lacking in purpose.
Without the physical workplace, we have most missed a place to come together, to interact, to collaborate, to get a sense of connection, to engage with the culture of our workplaces.  People still want and need that.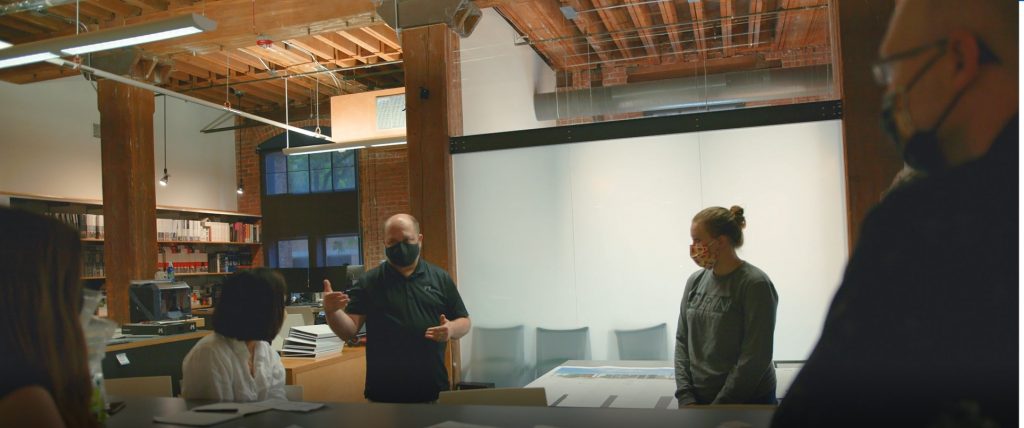 This is why, as designers of work environments, we know that the workplace isn't going away. However, our need for interaction and collaboration is also why the workplace will have to change, both temporarily and permanently.
As considerations for reentering the workplace are being weighed by organizations large and small, we are advocating for a mantra of balance, flexibility and a willingness to evolve as key to navigating the transition back to the office.
Balance and preaching patience
Regardless of when employees return, we know the work environment will look different than it did pre-pandemic.  Just as was the case before the pandemic, there will not be a one-size-fits-all solution or a single correct answer.
Universally, though, changes will need to be made to accommodate the transition of people back to the office.
What we don't know is what changes will end up permanently altering how we approach workplace design.
This is a moment of transition. Don't try to solve for every unknown or the long-term just yet.  Deal with day one.  It's most important to make temporary shifts that will allow employees to return to work safely.  Then be prepared to observe, pivot as needed, and evolve.
Companies will need to balance their desire to re-enter workplaces and accommodate our need to collaborate and connect with the health and safety of our employees and communities. Remember to stay focused on communication and transparency whenever possible.  Keep people at the core of your decisions.
Practice patience.  Observe how spaces are being used and be prepared with plans for adaptations.  Clear and consistent messaging about how spaces should be used is as critical, maybe more so, as structural modifications. Changing habits is harder than re-organizing spaces.  In the short term, not only will spaces need to be flexible, so will people.
Flexible, forward-thinking
Designing for flexibility and adaptability is not a new concept. Particularly in recent years the conversation has gained momentum as one of the guiding principles of many workplace strategies as well as sustainable design. Changes driven by the pandemic will serve to advance and adapt this discussion.
For instance, spaces once used for collaboration, like drop-in, teaming, and conference rooms will accommodate fewer people to allow for social distancing. In some instances, these rooms may serve alternate uses, such as individual workstations, or even transitional uses, such as cleaning stations.
Shared, high contact spaces will need to be rethought with an eye towards limiting occupancy and increasing automation and cleaning procedures. It will be critical for the workplace to integrate spaces and technologies that enable collaboration.
Touchless technology that was already a trend on the rise will be accelerated and adopted faster and more universally.   Emphasis on voice activated and no-touch features at doors, elevators, and more will continue to emerge.  New considerations for materials and systems that focus on pathogen free surfaces and indoor air quality are rapidly evolving.
Earlier trends toward benching as a higher-density and space-efficient workstation solution does not suit today's immediate needs. Temporarily, at least, employees will need to be staggered in benching environments, reconfigured if modular furniture will allow, or otherwise re-located to allow for social distance.
Evolution
While the workplace is not disappearing, the 8-to-5, five-day work week model may already have.  Work anywhere, anytime has arrived as a viable alternative and results-oriented, people-first leadership and management will be key.
Organizations should consider this moment as an opportunity to think intentionally about what is most important to them and find ways to focus on reinforcing that for their employees.  Finding ways to balance company policy with employee choice and making work environments a hub for brand and culture, as well as collaboration and social interaction.
There will always be organizations and employees who need or want to be in an office setting. There will also be others who need to, or want to, work from home.  Pre-pandemic, Gallup discovered that remote workers are more engaged, to a point.
Ideal engagement occurs when employees spend three to four days of a five-day work week working off-site, with one to two days in the office.  This balance optimizes focus and flexibility with efficiency and innovation.
Whenever possible, try to find balance between policy, morale, and preference.  Allowing individuals a choice in how and where they work can increase focus, engagement, and productivity.
We can grow from this experience.
The COVID-19 pandemic will continue to reverberate worldwide in many – if not all – aspects of life for years to come. The practice of architecture will not be immune. The future of design, for the workplace and beyond, will certainly shift as a result of the pandemic.
Hold onto the care and respect we feel for our colleagues and employees during this unprecedented time and allow it to change how we think about our practice and our professions, how we design spaces, and how we all work together and work within those spaces.
---
We believe workplace is a powerful tool that can help organizations compete for talent, engage their people, and realize new ways to innovate. OPN's corporate design team is immersed in the research and practice of creating environments that allow employees to work how, where, and, in some cases, when they want.  To see how we have helped our clients express their values and achieve their strategic goals, explore our corporate experience.